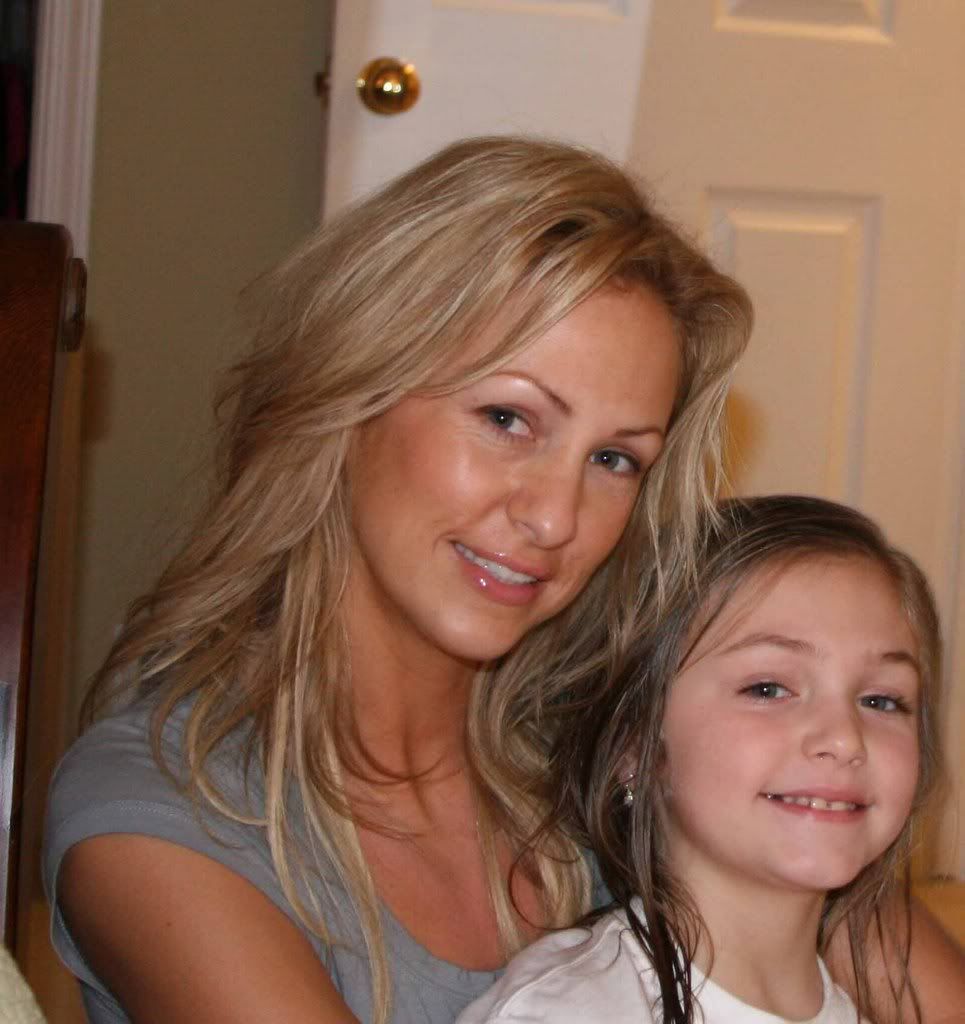 1. What is something Mom always says to you?
Yes and ....NO!
and more intelligent stuff, I think.
2. What makes Mom happy?
going to the gym, when I clean the basement & amusement parks
and in that order!
3. What makes Mom sad?
i don't know.
missing the gym, dirty basement & sometimes amusement parks.
4. How does Mom make you laugh?
 tickling me.
It's true, she's an easy target.
5. What was Mommy like as a child?
she had curly hair, oh wait, no that was someone else!
 Who?
6. How old is your Mom?
29.
7. How tall is your Mom?
around 4 feet?
um, 5'6.
8. What is Mom's favorite things to do?
take pictures & exercise
gosh, she's good. 
9.What does your Mom do when your not around?
watch a show on your bed with a little snack in your hand and have fun with Brody
She thinks Brody has all the fun and all we do is party when they're gone.... And the house magically cleans itself & clothes are put away by magic elves, and blah, blah....
10. If your Mom becomes famous what would it be for?
tennis player
I guess I wouldn't mind that with all the
 cute tennis clothes now! 
11. What is your Mom really good at?
 tennis, duh
back in the day and not so much now.
12. What is your Mom not very good at?
taking care of the dog
 She's right my question at the end of almost everyday "Anyone feed Jack today?!" We feed him, okay. No one send over PETA.
13. What does your Mom do for her job?
sells houses
kind of.
14. What is your Mom's favorite food?
pizza or candy
that's my girl. 
15. What makes you proud of your Mom?
You make us feel better when we are sad
awwww...
16. If your Mom were a cartoon character, who would she be?
who's that lady on the flintstones with the big rock necklace?  
Huh? Wilma? That's a first.
17. What do you and your Mom do together?
go shopping, go to Sweet & Sassy to get our nails done. 
That's what having a daughter is for!
18. How are you and your Mom the same?
 We both like having fun.
Oh yeah!
19. How are you different?
Our hair.
Little does she know.
20. How do you know your Mom loves you?
Because she cares for me & helps me learn.
Taylor's tagging Lauryn & Kate, Jessica & Kemry, and anyone else who wants to know what their kids think of them...