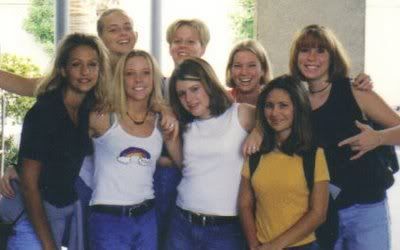 back to front, left to right:
Karasti, Trisha, Jana, Holly, ME, Amy, Stacy & Audrie.
I found this on Karasti's blog (thanks Karasti for posting it!) and my jaw about dropped off. Hello! Senior year trip 13 years a go!! Weren't we so cool? And tan? And skinny? And holy heck, young? 
Those were the days weren't they girls? I remember we went to Disney and that it was so much fun! Let's do it again sometime...between all of us wouldn't we have like 35 kids to take along?