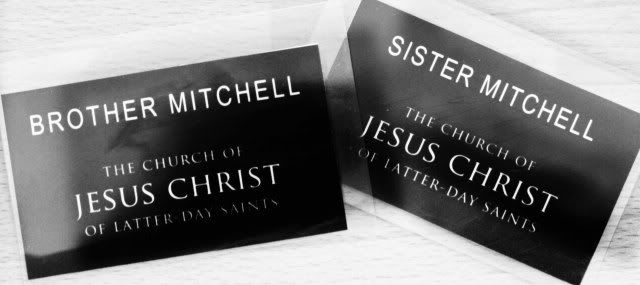 Bryan + I will hopefully go on a mission one day, we have dreams of completing a medical mission somewhere far, far away when we are empty nesters and such. But for now, here are the Mitchell missionaries I'm referring to...
Taylor + Connor had the most amazing primary activity yesterday put together by our amazing primary leaders. (Thank you Lisa for all your hardwork! My kids are still talking about how much fun they had!) They dressed up in white shirt + tie, sunday dress + off they went to learn what being a missionary is all about. When they got home I thought they looked so cute I had to take this picture.  At the same time it occurred to me that these two were born just 2 years + 2 weeks apart that means they will turn 21 + 19 the same month which means they
could
potentially leave on missions the same day! Not sure I could handle that, but it was fun to see their excitement of missionary work + learn more about what their Uncle Josh has been doing these last 6 months. Connor loved it so much he even wrote 2 pages in his weekend journal for school all about it.
{Immediately after this was taken Taylor + I ran over to the salon where she got 5 inches taken off! I'll have to post a picture of the cute new 'do soon, it's so much easier to comb + less tangly! It's in one of those moments that I wonder why I waited so long}