We survived our trip to West Virginia. I say "survived" since it involved 19 hours of driving and 1100 miles. It's a lot for a six day trip including travel days, but the kids did great! We had so much fun with the Mitchell family. They always spoil us and we had a great time. Bryan so nicely before we left charged the battery for the big camera, I threw the camera bag in the car not knowing it was missing the battery and then he asked me as we arrived if I grabbed the battery out of the wall. Nope! So all we had was our small camera with us, I'll figure out how to get the pictures off of it and post them soon or I may also wait for my SIL Ashlee to post her pics and steal them off her blog! *Thanks Ash!*
Thanks to one of Taylor's most favorite Christmas gifts (thank you Santa!) Taylor made dinner for the first time ever! She LOVED every minute of it.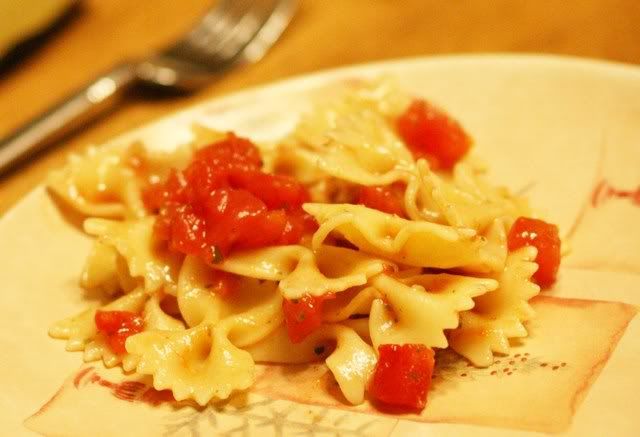 Yummy Pesto-Tomato sauce with bow tie pasta, corn + mandarin oranges.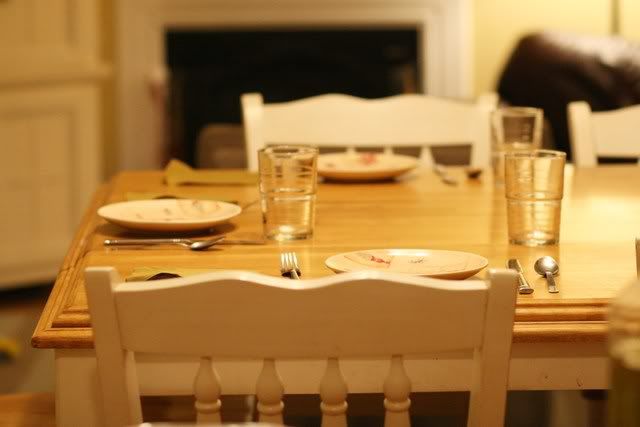 She set the table using the cookbook's guide.
She seriously has a week's worth of dinners planned...all I can say is WAHOO! I think I'll purposely put my feet up during dinner making time just to relish the moment :)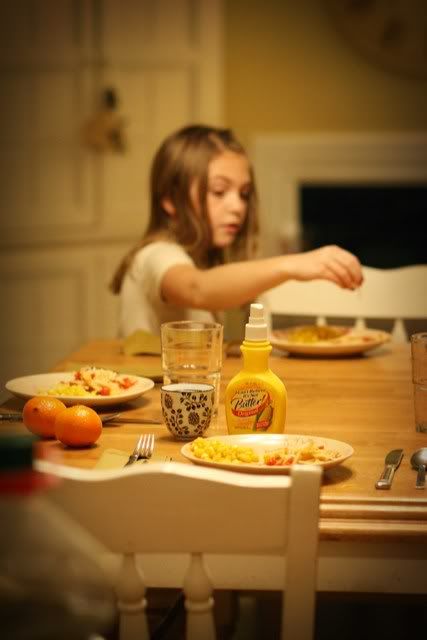 I had to post this recipe!  My cute SIL Heather made the most amazing Oreo pudding pies I have ever tasted for Christmas dinner. Of course I immediately wrote down the recipe and have to make it again this week when we have friends over (get ready to share, it makes a ton, but don't worry you will eat it all!) I don't have any pictures of the pies, but trust me, they were beautiful & delish - it is definitely my new favorite - you just have to try it. (Brooke, this has your name all over it!)
Heather's Oreo Pudding Pie
(makes 2 pies or can be made into one 9x13)
2 pie pans or 1 9x13 glass dish 
30 oreos, crushed mixed with 1 stick of melted butter
16 oz. tub of cool whip, separated
8 oz. pkg cream cheese, soft
1 cup powdered sugar
1 small pkg chocolate pudding
1 small pkg vanilla pudding
3 cups milk
Crush Oreos and mix with butter, press into pie pans or bottom of 9x13. Mix together HALF of the cool whip, all of the cream cheese and sugar. Divide in half and put in bottoms of both pies or evenly all of it in the 9x13. Mix puddings and milk together, let sit until thick, stir again and then do the same as above. Layer the rest of the remaining cool whip on top of the pudding layer. Crush up 2 Oreos for the top. Refrigerate until ready to eat.