Can you stand how cute this face is??
I have to stop myself from gobbling him up everyday!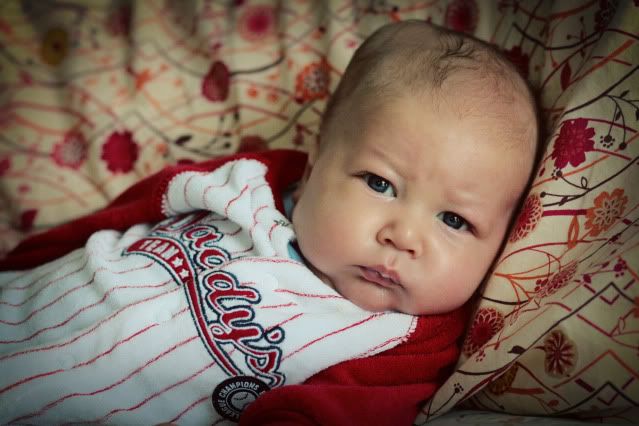 Easton had his 2 month check this morning accompanied with 3 shots + the rotovirus vaccine by mouth. (That was a new one for me) You think by number four you get used shots and I am, right up until I'm holding his fists in mine with his binky in his mouth and then oh I can't look! He screamed pretty good, but with a constant Tylenol drip I've got him on he's doing quite well. On to the good stuff....height and weight. I thought for sure they were going to tell me stop feeding him so much he's off the charts....he just seems like he's grown so fast! So I was surprised to hear this...
Weight: 11 lbs 5 oz (47%)
Height: (I didn't catch it, but it was in the 53% tile)
So there he is just like Taylor was - average as can be.
(Connor was always like 99% height, 25% weight - tall and skinny, Brody was always about 75% height, 50% weight)