It's fall...I love it. Except for the too cold, too fast kind of weather we've been having lately. But nothing gets your mind off it faster than cooking, crafting, sewing + playing. A couple things I have enjoyed lately are pulling out the pumpkin recipes, including the old ones and super fun thing, discovering new ones. I've also dusted off the sewing machine and got a start on this: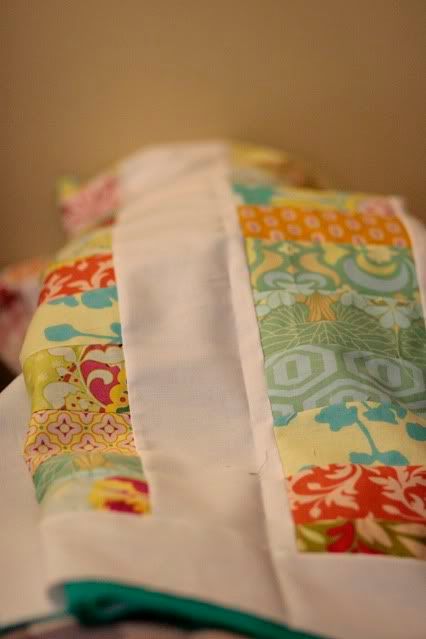 It's a peek at my attempt of a COIN QUILT.
I love that it's fast, simple looking, super easy and you can see another example of one
here
.
Brody and I have been working on his fine motor skills with this fun PK website. One of the fun ideas was to take construction paper and trace/print a simple halloween image and then take a tooth pick (with carpet underneath)and poke holes through the paper all the way around the image, when you're done, hold up to the light on the other side. We tried the bat, he loved it.
The kids + I also made a HUGE bowl of GOO the other night. It was a hit. Constarch and water. Equal parts of both. Can't believe I haven't tried this before - we ALL enjoyed playing with it.
Last night for dinner we made these:
Stuffed Pizza Rolls. Bryan + I had fun rolling them up with several different fillings: cubed ham + pineapple [next time I'm going to try with a pinch of brown sugar], sausage [mild, italian, you only need about one] + chopped pepperoni. You never knew which you were going to get, which was half the fun I'd say! Next time we're going to try their cousins.
Another great main dish I made last week that I would make again was this.
They were gone a few hours later.
You gotta eat fast to get anything at our house!
Yeah, yeah, I know, we've all made pumpkin chocolate chip cookies, but these by FAR are the BEST I've tried
...I'm thinking maybe it's the TABLESPOON of vanilla extract?!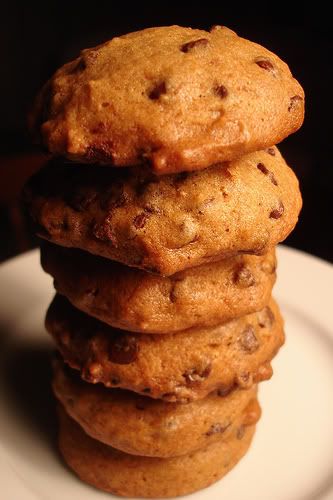 1 cup pumpkin
2 cups semisweet chocolate chips
1/2 cup chopped walnuts (optional) I added them, so good!
Combine soft butter and sugars. Beat till fluffy. Add in egg. Stir together dry ingredients. Add milk and vanilla to wet. Slowly stir in dry. Fold in cc and walnuts. Bake at 350 for 10-12 minutes. (I thought just over 11 was perfect in my oven)
I have not made these (yet!), but you can
here
:
Carving pumpkins is LOTS of fun! My kids do it at least 10 times a day!
Here
is the
MESS FREE
way.
One of the things I love about this time of year -
CAndY COrn!!
This Sunday, I have plans of our side dish including this fun idea:
Candy Corn Jello
!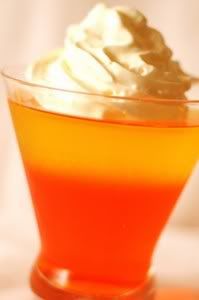 And I can hardly race out to Target later today fast enough to grab me SEVERAL bags of these!
The recipe for these bad boys is
here
.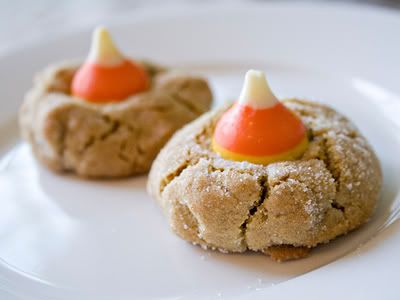 About a week a go I made these: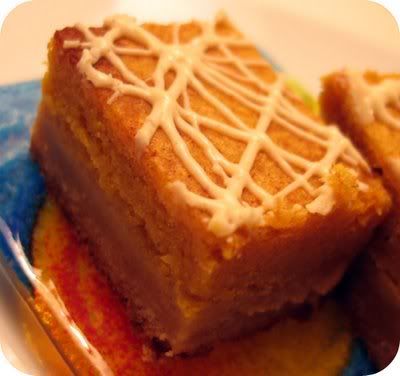 The most incredible, genius idea I've heard in quite a while...
Half snickerdoodle cookie, half pumpkin pie!
But, I also can't forget about these, I'm making them soon, they are one of my all time fav's.
A week or so a go, we made these Pumpkin Milkshakes for movie night at our house. They were gone in two seconds flat if I remember right. The recipe has a permanent place in my keepers!
First you add all this yummy pumpkin pie stuff + ice cream:
Then blend and right before your eyes it turns into a little cup of ice cold creamy pumpkin heaven and just incase that is not enough just go ahead and top with graham cracker crumbs!
We've also been loving this:
Archer Farms (Target brand)

DULCE DE LECHE

hot cocoa mix.
It's perfect in front of the fire place or as Tay and I like to do, in travel mugs watching Connor score goals in his fall soccer league.