This is such a fun cake! We made it last night for FHE + the kids were just dying to eat it - scorching hot or not! I would suggest making it the morning of and then pouring the sauce on top about an hour or so before serving...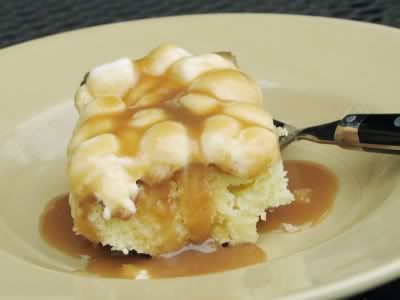 This is really one of the yummiest creations I've ever had. The picture doesn't do it justice. Best way to describe it is buttery yellow cake covered in melty marshmallow goo swimming in butterscotch syrup. Best of all it's something different than the usual, it's fun to make + eat - we give it 5*'s!
(warning: this is SOOOO super sweet)
Preheat oven to 350. Spray 9x13 glass pan with nonstick spray. Mix the first 5 ingredients (cake - vanilla) on low until dry is incorporated. Then increase to medium and mix a min or two. Pour batter in pan. Bake 25 minutes. When done take out of oven and cover with mini marshmallows (not the entire bag, but close!) Put back in the oven for 3-5 minutes depending on your oven...you want the marshmallows soft and melty with just the faintest bit of brown on top of most. Cool completely. Then make the butterscotch: Put in glass bowl brown sugar-butter and microwave for 1 min at full power. Stir. Microwave for 1 minute at 50% power. Stir. Microwave at 50% power again for 1 minute. Stir. Add in 1 tsp vanilla extract.
Pour butterscotch over top of cake allowing it to completely cover the top. There will be some sauce (or A LOT!) left over. Serve cake with the additional butterscotch.