but we've been having way too much fun!
This picture makes me want to cry...he's getting so grown up + wants so badly to be a BIG kid. He tries to keep up with the older kids, it's so darn cute!
We went to the older kids' school for the end of year fair they hold every year. This is their playground.
This was his very first time EVER going down a big slide -
look at his face!
Brody going up the bigger slide, he was too nervous when he got to the top + came back down.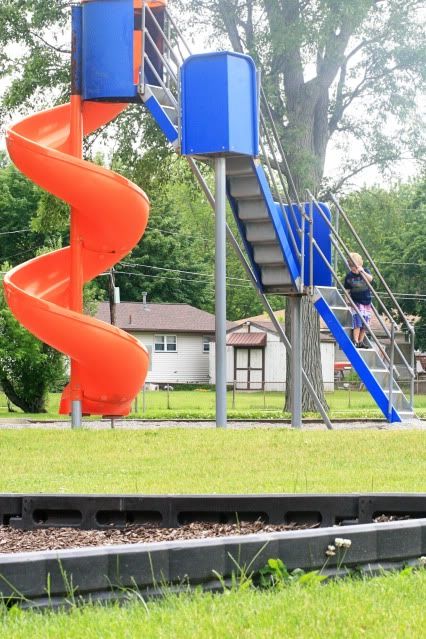 The kids had a blast going booth to booth, collecting toys + candy + playing lots of games (including toss the rubber chicken) Oh those chickens so remind me of Taylor about age 2 - she slept with a rubber chicken for months!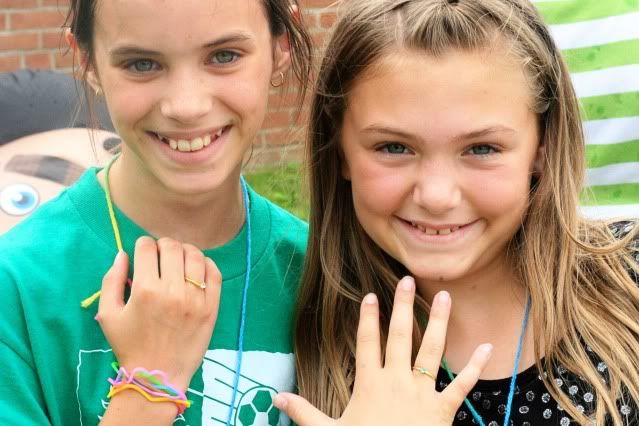 Taylor tried to dunk her Teacher's assistant! She is the cutest girl, so sweet + just loves Tay. Taylor hit the target, but it didn't fall so she let Tay come up and hit the button herself. It was great!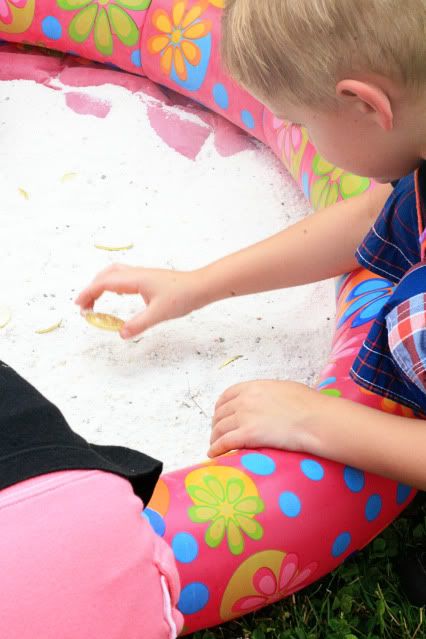 We have been making loads of this YUMMY Cinnamon Swirl Bread, infact some is baking in the oven now. It's been great for thank you gifts too. It is SOOOOOOO easy - despite how much I try to convince my sister I don't think she's made it yet, but seriously if you can make pancakes from scratch you can make this. Your family will LOVE it.
I bake ALL the time, sometimes Bryan has to put his foot down + some recipes are okay + those I don't post, but some are GREAT + this is one of them! I made these a couple days a go + YUM - Strawberry Lemonade Cupcakes...
1/4 c. thawed lemonade concentrate
Oven 350. Line 12 muffin cups with liners (makes 12). In small bowl, mix flour through salt. In large bowl, combine sugar through concentrate. Alternately mix in flour mixture with buttermilk into the large bowl. Beat until smooth. Fill muffin cups 3/4 way. Bake 20 min or until toothpick comes out clean. Let cool completely.
I used my favorite strawberry frosting...it's from SPRINKLES CUPCAKES.
Sprinkles Strawberry Frosting
about 3-4 large strawberries (either frozen or fresh)
2 sticks unsalted butter, firm + slightly cold
Put strawberries in food processor. Process until smooth. Beat butter + salt. Slowly beat in sugar + stir in vanilla. Add 3 T. of the strawberry puree. Mix well. Chill if needed for a minute then frost cooled cupcakes.
Bryan spent the entire day Friday on call + arrived home with not a wink of sleep Saturday morning. I let him sleep the morning away while I took Brody + Connor over to watch Connor's soccer game. It was such a beautiful morning. Then the boys and I headed straight over to the gym for my absolute favorite spinning class with my 6 month pregnant instructor who beats the heck out of me - and I have to say - I LOVE every minute of it! It's one of the things I'll miss about this place.
After a lazy afternoon followed by not the slightest bit of interest in cooking dinner we ran over to Five Guys Burgers - we love that place, juicy burgers + a mountain of fries, some cajun style of course. Then we decided that eating that many calories in one sitting deserved a walk on the canal.
I ran in the house, grabbed the bag of bread in the freezer + some popsicles + off we went...