Trying to get my kids to eat healthier snacks + choices for breakfast.
Connor now loves Greek yogurt + granola with lots of OJ.
Taylor....oh how I would love to say Instant Breakfast is "healthy" but I can berly get that down her, she's the nonbreakfast type, but it gives me guilt all day if I don't insist she has something.
Brody: Cinnamon Toast Crunch please. For Breakfast, Lunch + Dinner, pretty PLEASE! I cringe.
Easton: He eats very little + if I can get him to do anything I'm smiling ear to ear.
I found this recipe from Jessica Seinfeld in a magazine which are super healthy kind of muffins...grated carrots + apples - I think of that + think dry + tasteless especially with NO sugar? But you would never know with the 1/2 c of syrup! 198 cals each, 5 grams of fat.
They were REALLY good, worth sharing...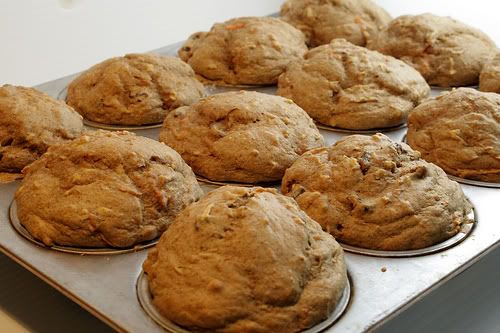 Maple Spice Muffins
Yields: 12 muffins | Prep: 20 minutes | Bake: 25 minutes
Nonstick cooking spray
¼ cup trans-fat-free soft tub margarine spread
½ cup pure maple syrup
1 (6 oz) container of low-fat lemon yogurt
½ cup nonfat sour cream
1 large egg
1 large carrot, washed and grated
1 small apple, grated
½ cup raisins
1 cup all-purpose flour
1 cup whole-wheat pastry flour
1 tsp baking soda
1 tsp baking powder
1 ½ tsp cinnamon
1 tsp allspice
1/2 tsp ground clove
1/4 tsp salt
Preheat the oven to 350F. Coat a 12 cup muffin tin with cooking spray or line with paper baking cups.
In a large bowl, stir the margarine, maple syrup, yogurt, sour cream, egg, carrot, apple, and raisins, breaking up the margarine with a spoon.
Sprinkle the 2 types of flour, baking soda, baking powder, cinnamon, allspice, clove, and salt over the margarine mixture. Stir until just combined, but do not over mix – the batter is supposed to be lumpy.
Divide the batter among the muffin cups. Bake until the tops of the muffins are lightly browned and a toothpick comes out clean when inserted into the center, 20 to 25 minutes. Turn the muffins out onto a rack to cool.
Store in an airtight container at room temperature for up to 2 days, or wrap individually and freeze for up to 1 month.
(I just used 2 cups whole wheat flour instead + greek yogurt because I didn't have any lemon)