What a way to end our last few weeks in Aspen!
Fourth of July here did not disappoint + having my brother + his family with us made it all the more sweet + oh so much fun!!
They arrived late Friday night, like 1AM late!
The next morning I hurried everyone into the showers + out the door. I had plans to catch the Saturday morning downtown Farmer's market. That day we ate ALL our meals outside!
We walked downtown. On the way we found this, couldn't resist...
For breakfast we ate maple bars + chocolate dipped sugary donuts as we walked the streets covered in vendors selling everything from grass fed beef to some awesome Etsy sellers with cute (expensive) homemade finds.
We played at the park + let the kids run around a bit then headed home to pack up a picnic. We headed up Castle Creek. It's a road Bryan has enjoyed biking this year, it's so beautiful as it runs along the river + up to the ghost town known as Ashcroft.
Near the end of the road we found some private land (that required some convincing it was okay to picnic on) and I'm so glad we did, because I'm pretty sure we found the most beautiful picnic spot ever in history. I think. Cute little tree stumps and all. It didn't take long for every ant within the 5 mile radius to find us tho!

After lunch everyone (but me + E who was asleep in the car) went for a little history walk to see the historic townsite of old Ashcroft. I'd been before with the kids last year, it is a fun little place to visit.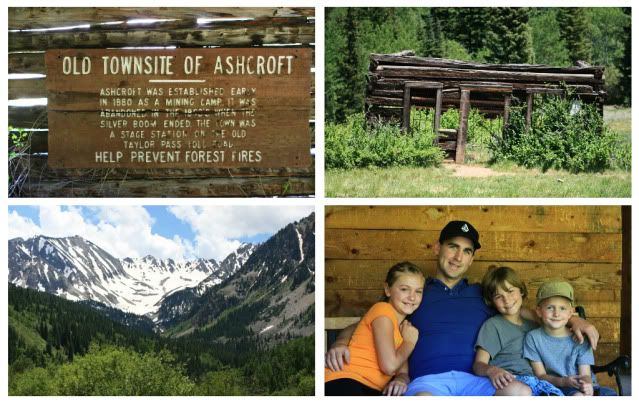 Bryan packed the bikes up hoping some of us would enjoy biking the downhill ride back towards home. It was fun to leapfrog down the pass.
That evening we packed up dinner + headed for East Maroon Portal. One of our favorites. Ending with s'mores of course!




Love this picture! My brother is such a great dad! All the kiddos love him.
The next morning the guys went on a hike + fished at the top of a mountain on American Lake. They caught lots of big fish + were as happy as could be. Rachel + I felt like moms of the year as we geared up to take all 6 kids on a 'hike'. I decided on Smuggler Trail in town since it's short + the top looks over the entire city. I knew it was a steep hike, but we are tough! The kids made it about 1/3 of the mile and a half and we turned around before they all started to sit down from exhaustion. The thing about this 1.5 mile hike is it also ascends 1500 ft at the same time. Straight UP! Rachel + I took full advantage the next few days + tried to beat our time each day + got some great work outs in!
That afternoon/evening we packed the grill + made our way up to the bells. It's our absolute favorite. Eating by the river, it's so clean + comfortable. A little chilly still, but I'd say just right!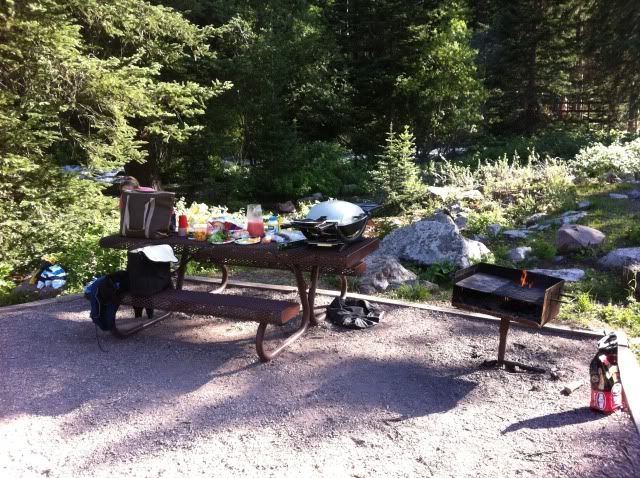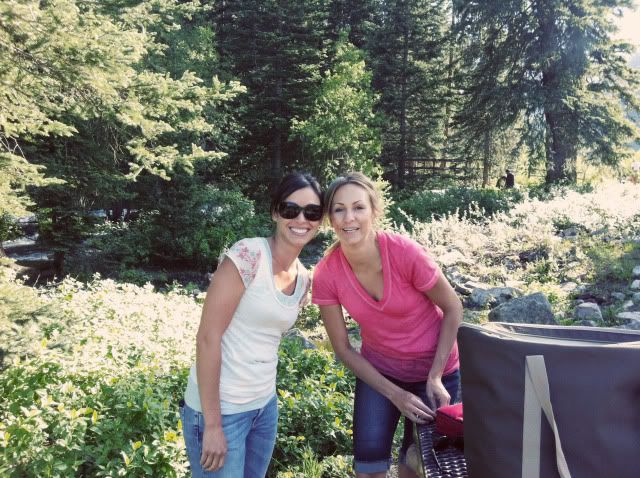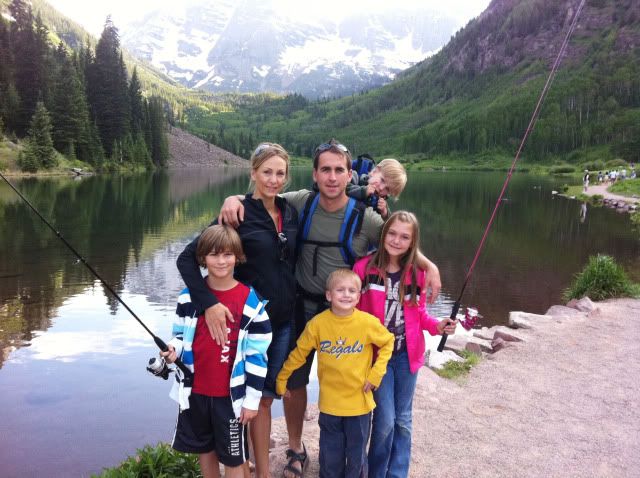 After dinner we decided to take a little hike to see the giant waterfalls from all the snowy runoff up the trail a little ways. I wish cameras could capture exactly how beautiful it is up here, but I'm afraid you just have to come!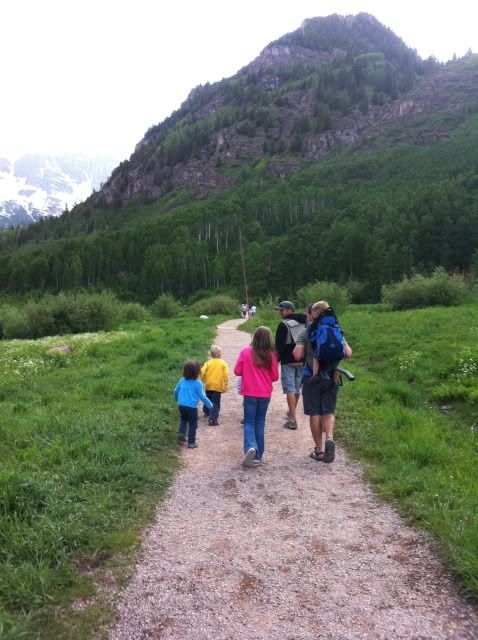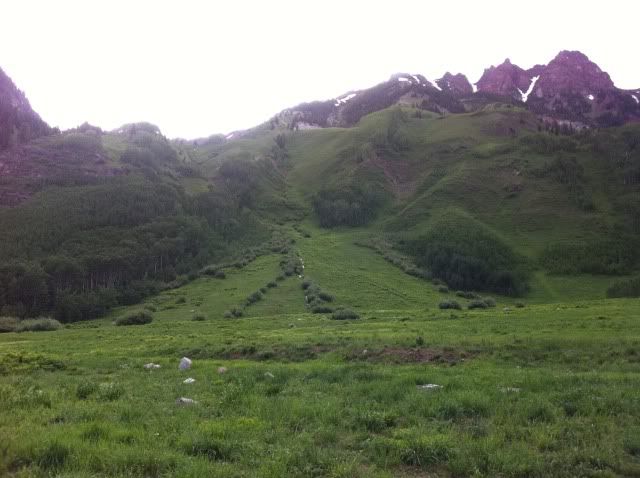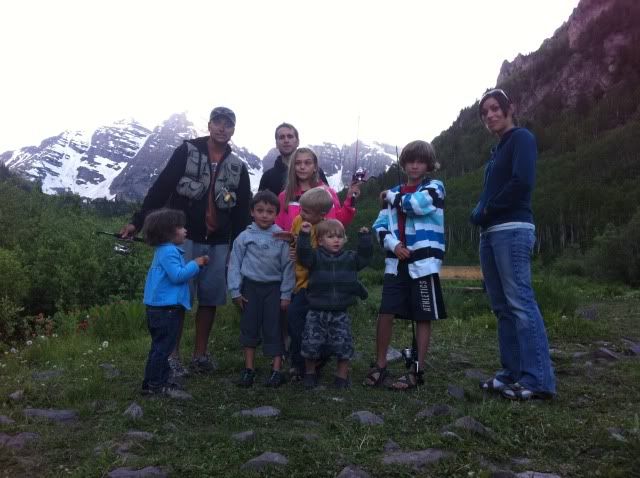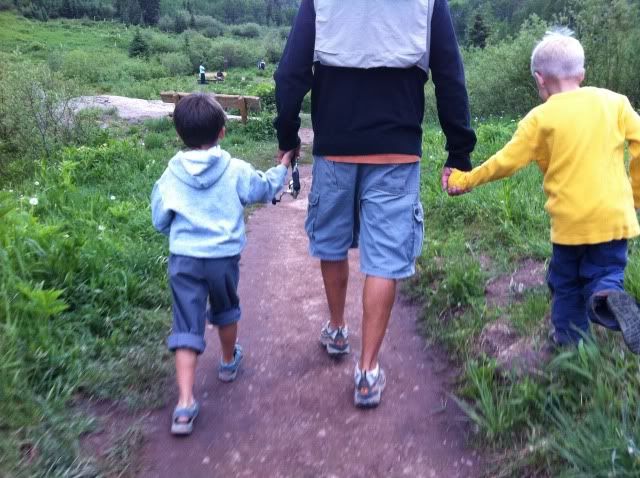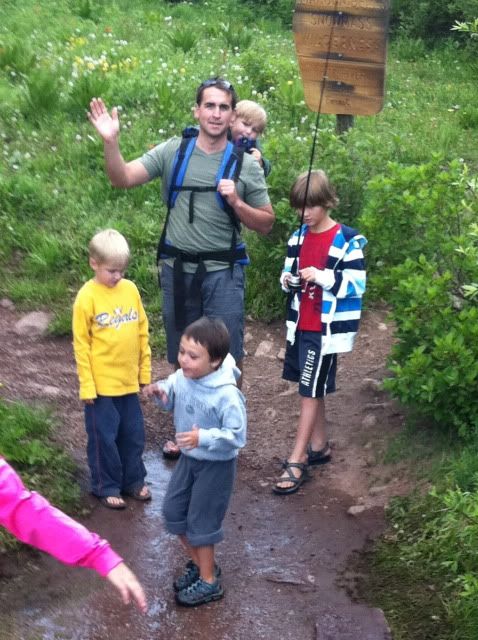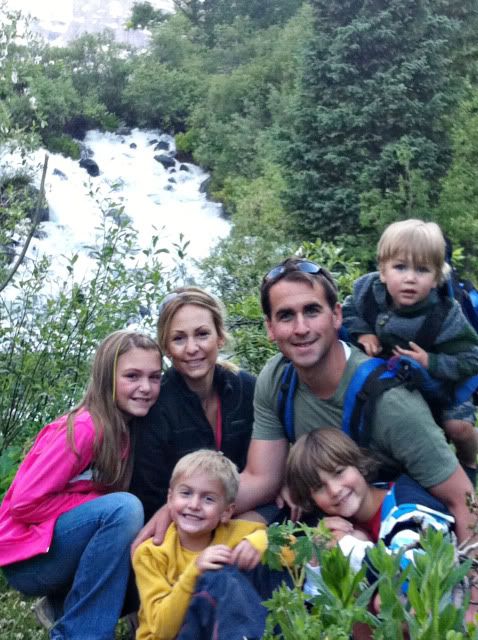 Monday we woke up to the 4th of July + I had a FULL day planned! Starting with the annual parade. Everyone was ready by the sidelines...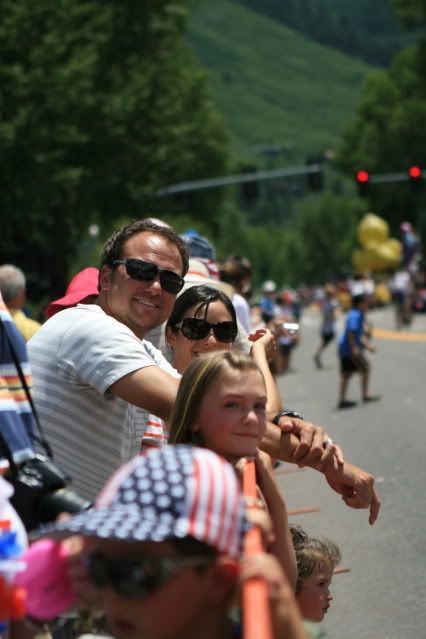 100 floats came down Main St. I'd say about 50 too many (we left early!) but they did have some great ones...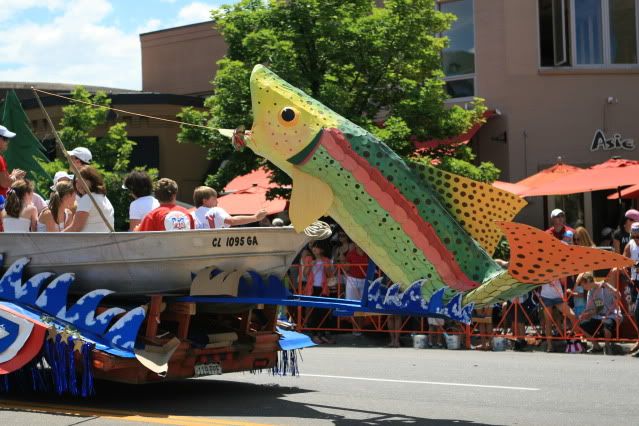 I loved when the little old men who served our country came walking/riding down. I love this picture....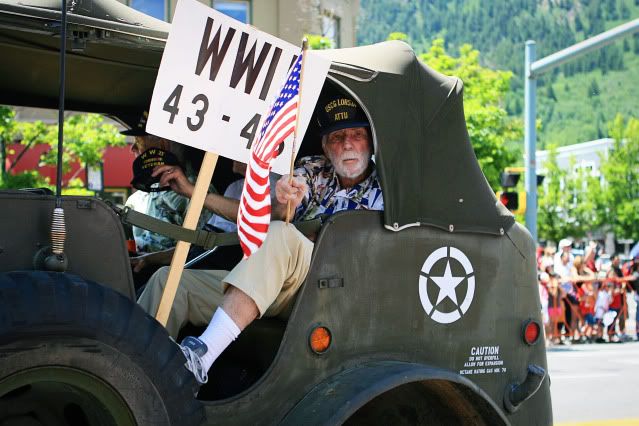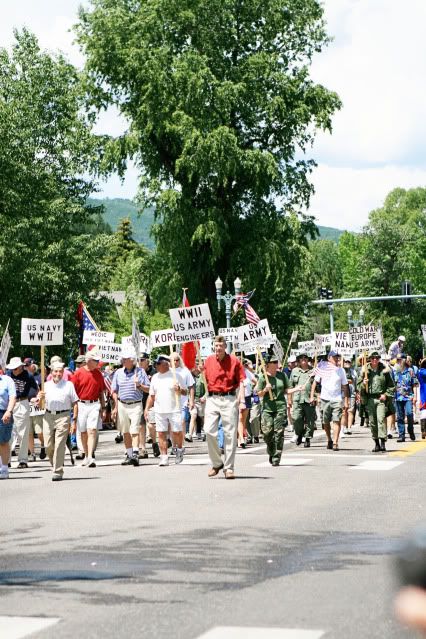 I'm sure THIS guys has some stories to tell!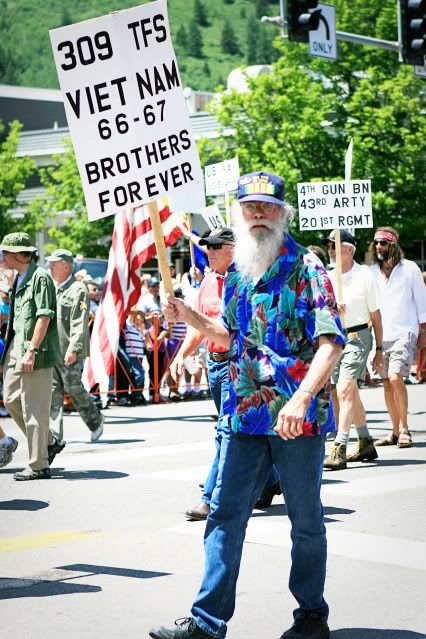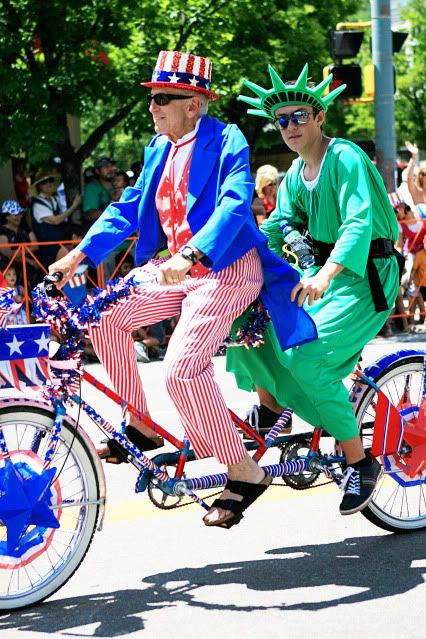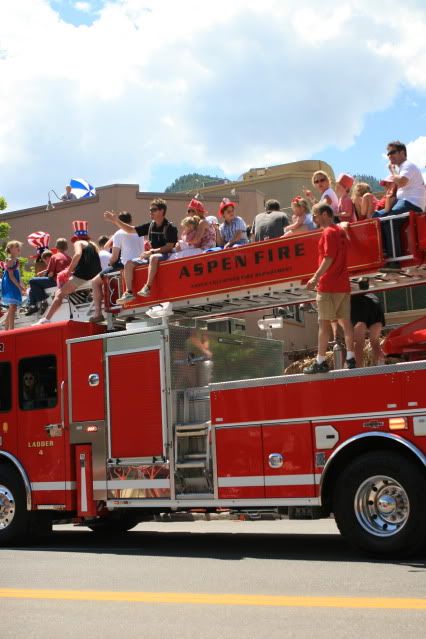 We left the parade a little early around 1pm + we were all STARVING! We were on the hunt for a quick pizza when my friend Angel called to tell us about the free lunch at the Art Museum. Free? In Aspen? OK! Plus, we were standing right in front of the museum when she called - gosh the luck!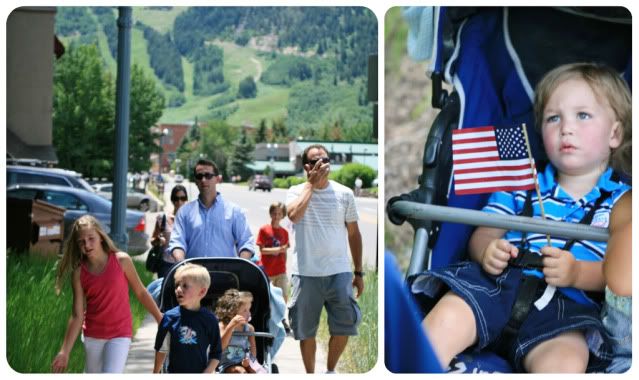 We pulled up to the grassy front of the museum first ones there! Plopped down our blanket + waited for our catered pulled pork BBQ FREE meal! Ok, and this is one of the things I'll miss about Aspen - her name is Angel. My good friend (from St. George!) who has led me thru the thick + thin of Aspen life. I don't know what I'd have done without her! Cue the tears. Ok, so I thought this was awesome...as people came to find their free meal which free meal = LOTS of people no one wanted to be first in line, but Angel is awesome she just came up to me + said 'we got kids to feed - let's go!' Seriously, 30 seconds after we lined up look at the line behind us!! We're all like sheep aren't we?? haha!
Waiting for our yummy food...
The band was playing + we were DANCING!! Jojo LOVED it.
This is for Rachel (OMG that kid!) Hope you're laughing?!!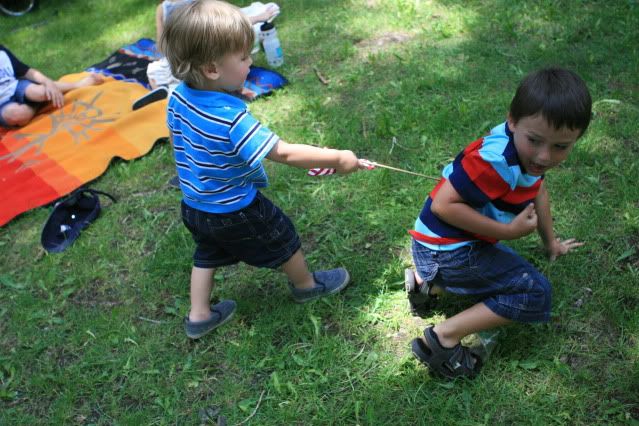 Looking at this picture you'd think Bryan was holding something really amazing everyone was fighting to see? (hint: they are boys)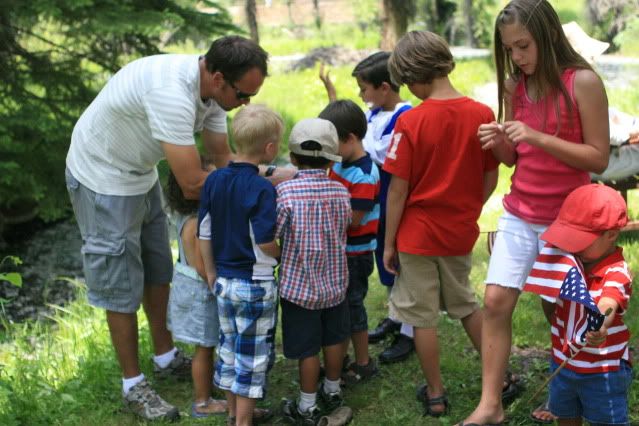 It was this! And they all were fighting like crazy to 'take their turn' to hold it. Bryan had to step in + save it's life.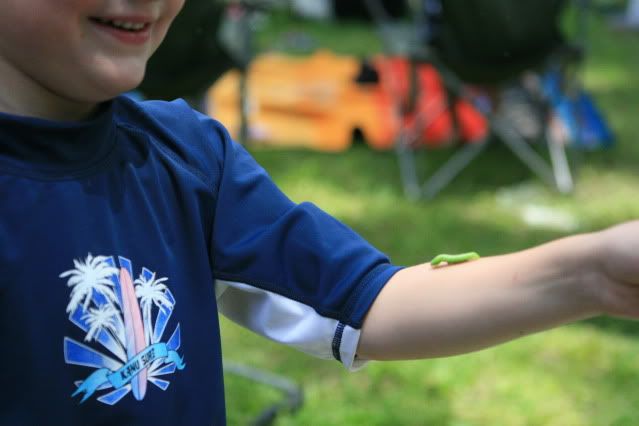 This is American spirit!! LOVE this Jojo girl!
After a couple naps were complete + we were well rested we left for the park downtown. My branch invited us to a little potluck after the rugby game + before the fireworks.
Kids played, adults visited.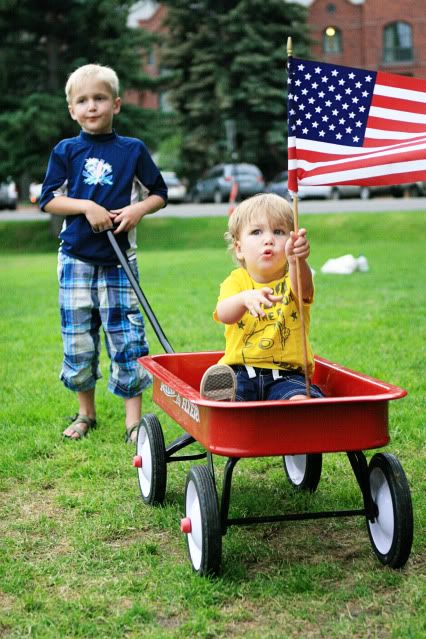 Andrew + Jo found a balloon animal guy. Meet T-Rex + Rapunzel...
Oh yes I made Texas White sheet cake shaped into the America Flag of course.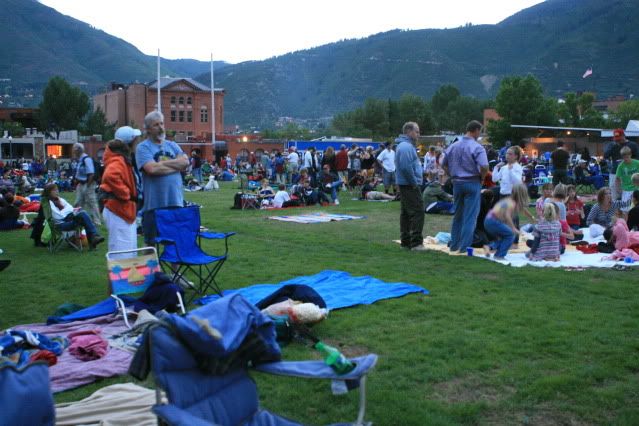 Bryan handing out sparklers (this drew kids from all around - we were POP.ULAR!!)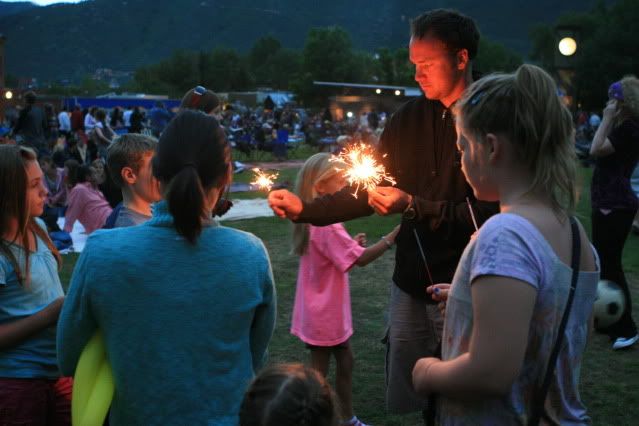 And the fireworks against AJAX mountain were perfect. Getting home in the Aspen traffic not so much!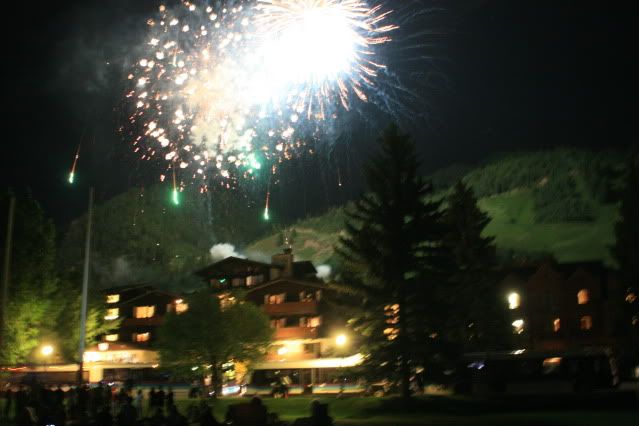 If you ever have the chance to come here for the 4th - DO IT. :)